Archive for the 'Videos' Category
I'm excited to release this 8-minute video documenting the making of Mastering Lighting. It showcases the incredible amount of teamwork that went into creating a learning experience that didn't suffer from the usual tutorial boredom. It's also a fun look at the challenges we faced trying to squeeze PhotoKamp into an easily-distributable format, including scanning a model in 3D, taking you to my favorite locations virtually, and putting the viewer inside my head for a first-person POV on set.
We hired more than a dozen visual effects artists in five countries to help us build the warehouse, the Aryn model, and a full library of lights and camera gear. Being new to VFX, I was naive at best, and I would have been in way over my head if not for the guidance and contributions of good friend and VFX supervisor Raffael Dickreuter.
Dickreuter gave us the blueprint for creating a mini-VFX house within SlickforceStudio, and together we spent endless hours building render farms and network servers, programming camera moves, and adjusting lighting and texturing from the various artists. It's safe to say that without Raff I'd still be working on this today.
If you haven't checked out Mastering Lighting yet, you can learn all about it right here. SlickforceSystem.com is offering a Fall promotion for $30 and free U.S. Shipping, enter code MLFALL30 at checkout. Also, for a limited time you can order additional SlickforceSoftlight's with your order.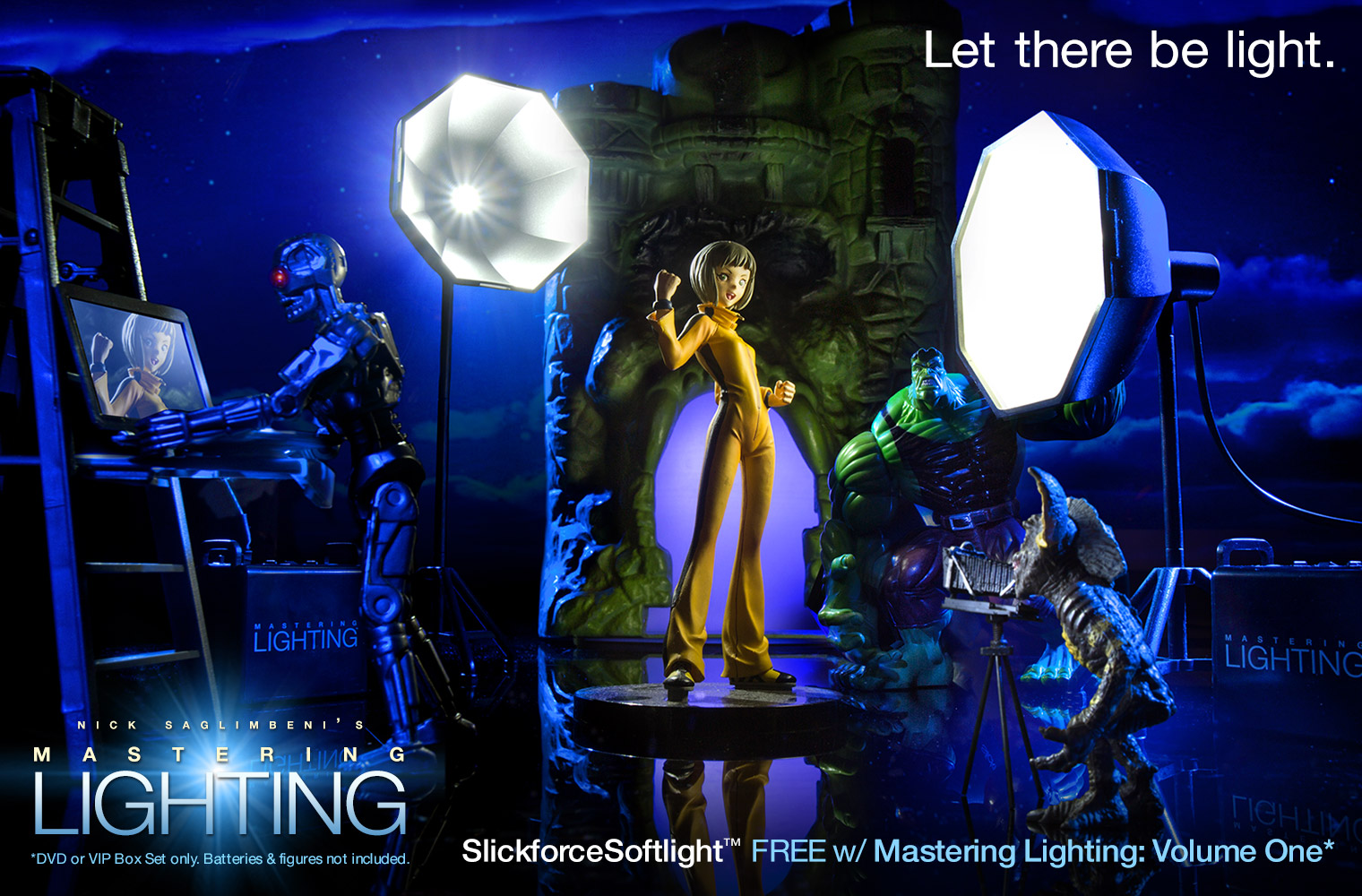 Few people can claim to have accomplished so much before turning 18. Already a fashionista, a TV star, a Balmain model and the #1 most popular person on Snapchat, Kylie Jenner clearly has plenty of momentum heading into adulthood.
The SlickforceStudio team is proud to have played a small part in Kylie's meteoric rise, as she did her very first professional shoot right here at our studio five years ago. Since then, the younger half of Jenneration K has returned in front of our cameras many times to further grow her brand.
Last month, we asked you to rank our best Kylie Jenner shoots. You voted, and now here are the Top 5. To see the full list (voting remains open), click here.
Click on the titles for more info, full galleries, and behind-the-scenes of the shoots. And if you're still itching for more Kylie after that, you can view every shoot we've ever done together right here.
Wishing Ms. Jenner a very happy 18th birthday and continued success. Drumroll please.
5. Kendall & Kylie's First Team Up at SlickforceStudio
This shoot was not only the first time I photographed both Kendall and Kylie together (aside from the Christmas cards), but it was also shot entirely in 3D. See the final images and the making of this shoot here.
4. Kylie Jenner: Day One – Kylie's First Shoot
The historic first time Kylie Jenner stepped in front of my lens, and she couldn't have shined brighter. See more from Kylie's first shoot here.
3. Arthur George Socks for Neiman Marcus
The shoot was a ridiculous amount of fun, as you can see both in the video above and also in the behind the scenes and final campaign images here.
2. OK! Magazine Spring Fashion Feature
Beautiful, bright, and full of energy—see Kendall & Kylie's full OK! shoot and behind-the-scenes here.
1. WMB 3D: Kendall & Kylie at Ultimate Graveyard
Easily the most epic shoot we've done together, K & K take over the desert for WMB 3D: World's Most Beautiful. Go backstage at their Ultimate Graveyard shoot here.
And there you have it. Love this list? Think you could improve it? Vote your favorites here so your voice is heard!
Welcome the newest hero in the SlickforceGirl universe, Desert Mechanic Jessica. Word on the street is that she can fix anything, including your incorrect opinion.
Model Jessica Burciaga graciously stepped in to bring this rough-around-the-edges savant to life, and she was nice enough to let us cover her in dirt. Check out the making of Jessica's shoot in the video above, as well the final campaign images and a BTS gallery from the shoot below.
For additional photos, hop over to SlickforceGirl.com and be sure to check out the SlickforceGirl Facebook and Instagram.
CREDITS:
Photo: Nick Saglimbeni
Model: Jessica Burciaga
Makeup: Therese Williams
Hair: Al Ingram
Styling: Diana Chan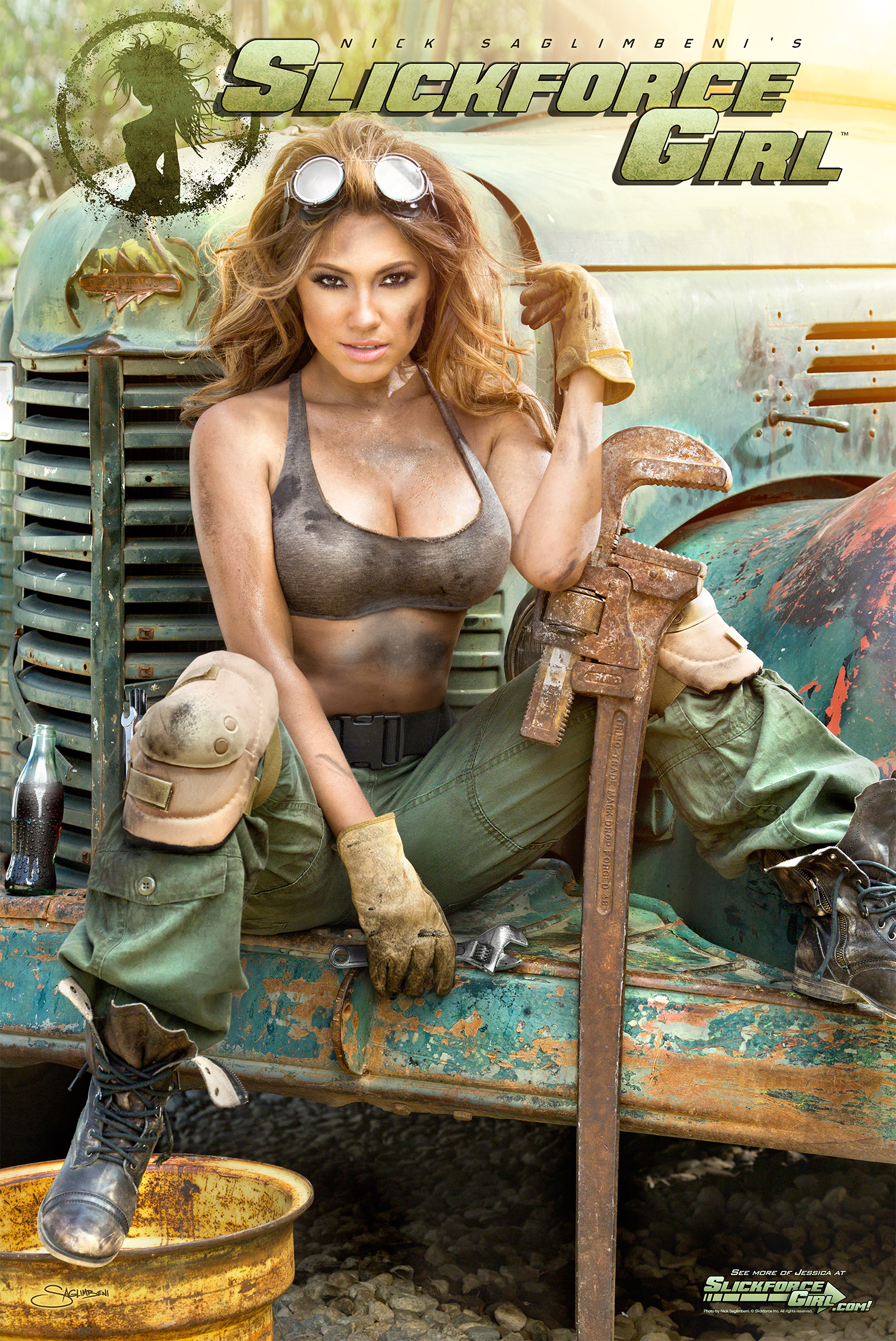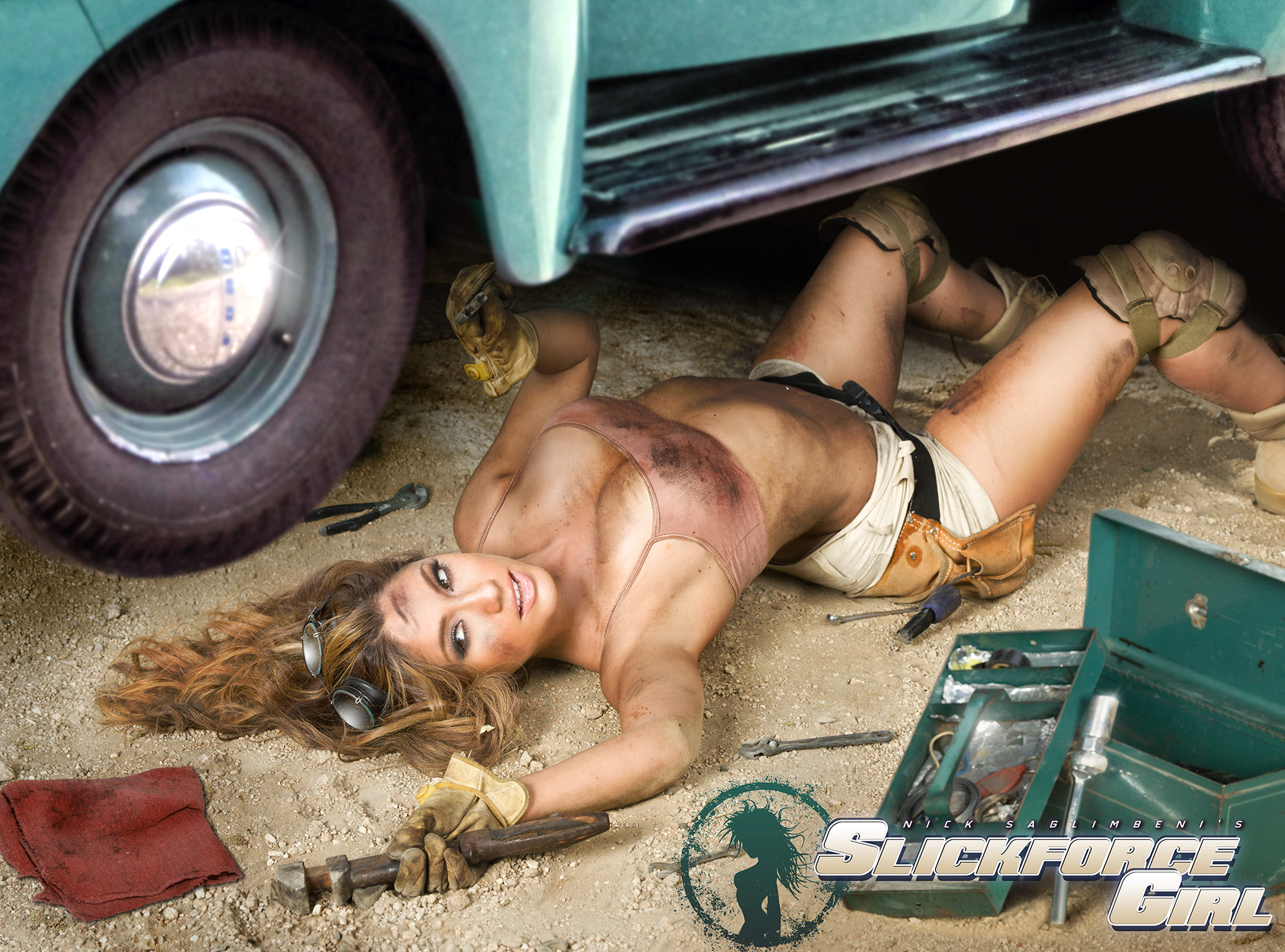 After spending two long years and countless hours in a seemingly-forgotten corner of Los Angeles putting together our latest tutorial, it has been an absolute thrill hearing from so many of you about Mastering Lighting: Volume One. For those still curious, here's a look at the first chapter of the series.
Fortunately, some pretty big critics seem to be in agreement with your positive comments, and Mastering Lighting has been getting rave reviews from these incredible photography sites. (Click images below to read the full reviews.)
I am also proud to announce the simultaneous release of two additional language versions. Mastering Lighting: Volume One has been meticulously translated into German and Spanish, by photographers Stefan Rasch and Adrian Orozco respectively. For those viewers who want the best of both worlds, the SlickforceStore is offering a combo bundle which features the German or Spanish download and the English Box Set (Standard or VIP Edition). Previews of each language are below. Click here for more information and to see all language options in our store.
And finally, by popular request, we've now introduced VIP Box Set Trilogy combos, allowing you to complete your SlickforceSystem library collection while adding the convenience of the downloads. Each trilogy set includes Mastering Lighting: Volume One, Mastering Retouching (Levels 1-7) and Mastering Compositing (Levels 1-5). Compare all options here.
Thank you for continuing to send your feedback, it is incredibly helpful in our quest to continually improve our learning series'!
With the upcoming release of her new film, "Dirty Politics," we are reminded of the time we dragged Bollywood's Mallika Sherawat out to the desert for the second issue of WMB 3D: World's Most Beautiful. If you missed it the first time, here's a flashback with never-before-released behind-the-scenes images (and video below) of our scorching starlet in 100+ degree heat.
WMB 3D: Mallika Sherawat scorches the desert from Nick Saglimbeni on Vimeo.
As an art-house, the SlickforceStudio team takes a lot of pride in just about everything we produce. But every few years, a project comes along that requires unprecedented levels of attention—an all-consuming energy beast that galvanizes the team and challenges us to power-up our skills and work together to break new ground.
Ever since the release of Mastering Retouching, my inboxes have been filled with requests for a lighting tutorial. Producing five PhotoKamp workshops provided me an incredible opportunity to work side-by-side with up-and-coming photographers and learn which teaching methods stick. Aspiring artists want to know how to create the worlds that have existed only in their minds…until now.
I'm proud to announce Mastering Lighting: Volume One, available for early pre-order now and shipping in early January. Taught in classic SlickforceSystem style, we've combined hundreds of your questions into a revolutionary new teaching tool.
In Volume One, I'll take you through some of my biggest shoots, completely reverse-engineering the lighting setups. I cover our most highly-requested topics, such as redirecting the sun, working with fog, balancing artificial and natural light, finding the right composition, motivating your light sources, and much more. Best of all, you'll get to set up the shot and light right alongside me, thanks to the incredible first-person perspective experience created by our visual effects team.
And since more than half of our customers preferred the library-quality Collector's Box Set for Mastering Retouching and Mastering Compositing (artists like awesome tangibles, go figure!)… well, we're just going to have to top ourselves on this one. The first 250 customers that order Mastering Lighting: Volume One will received a FREE Softbox reference light toy. I'll elaborate more as we get closer to launch, but trust me, you'll want this one on your shelf.
I am indebted to the wonderful Slickforce team who worked so hard to make this series a reality, and a very special thanks goes out to YOU for all of the questions, feedback and support you've sent us over the years. You've helped us create a fantastic new way to learn about lighting and photography. And I can't lie… this one was just a little too fun to make. If you don't believe me, check out the official trailer above.
Special early pricing ends November 30, so pre-order now at MasteringLighting.com!