Posts Tagged 'Melanie Iglesias'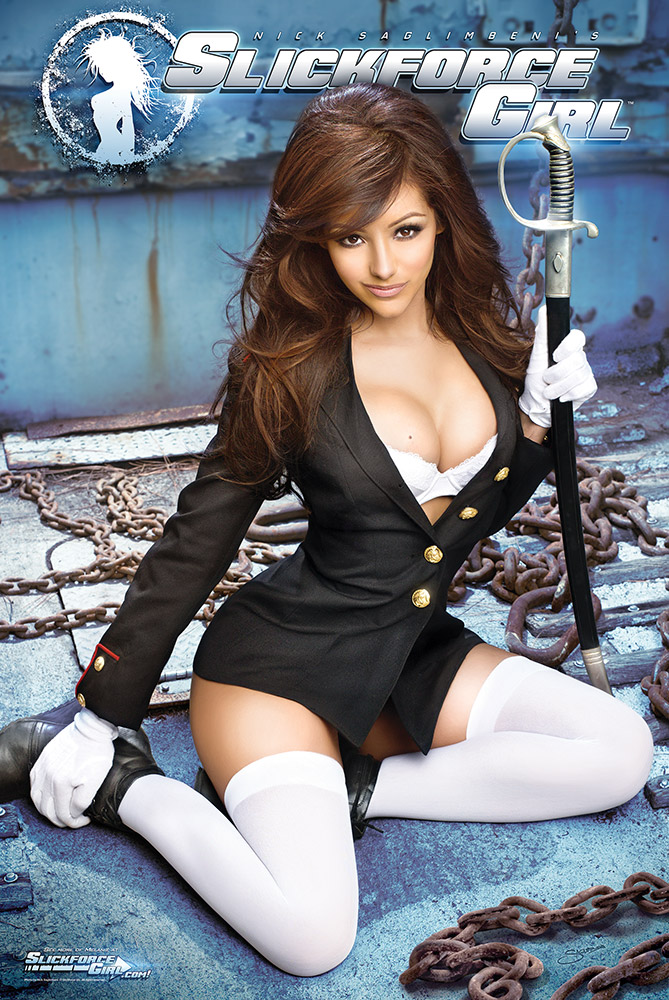 As America gears up to celebrate Memorial Day, the SlickforceGirl team is commemorating the holiday with Special Edition content releases featuring our newest hero, Marine Melanie, played by the lovely Melanie Iglesias.
Pre-order your 24″x36″ Marine Melanie Collector's Wall Poster before May 29, and Melanie Iglesias will autograph them—personalized to the recipient.
For the hardcore Marine Melanie fans, we've got a Marine Melanie SuperFan Combo Pack that contains the 24×36 wall poster, a Charcoal Gray Marine Melanie SlickforceGirl T-Shirt, a Limited Edition 11×17 care-package poster, all in one set.
A portion of profits will be donated to Hope for the Warriors, and incredible non-profit that aims to enhance the quality of life for post-9/11 service members and families of the fallen.
Wishing everyone a happy and safe holiday. In the coming week, we take the time to remember those who have lost their lives in the fight for freedom. You are the real heroes, and SlickforceGirl salutes you!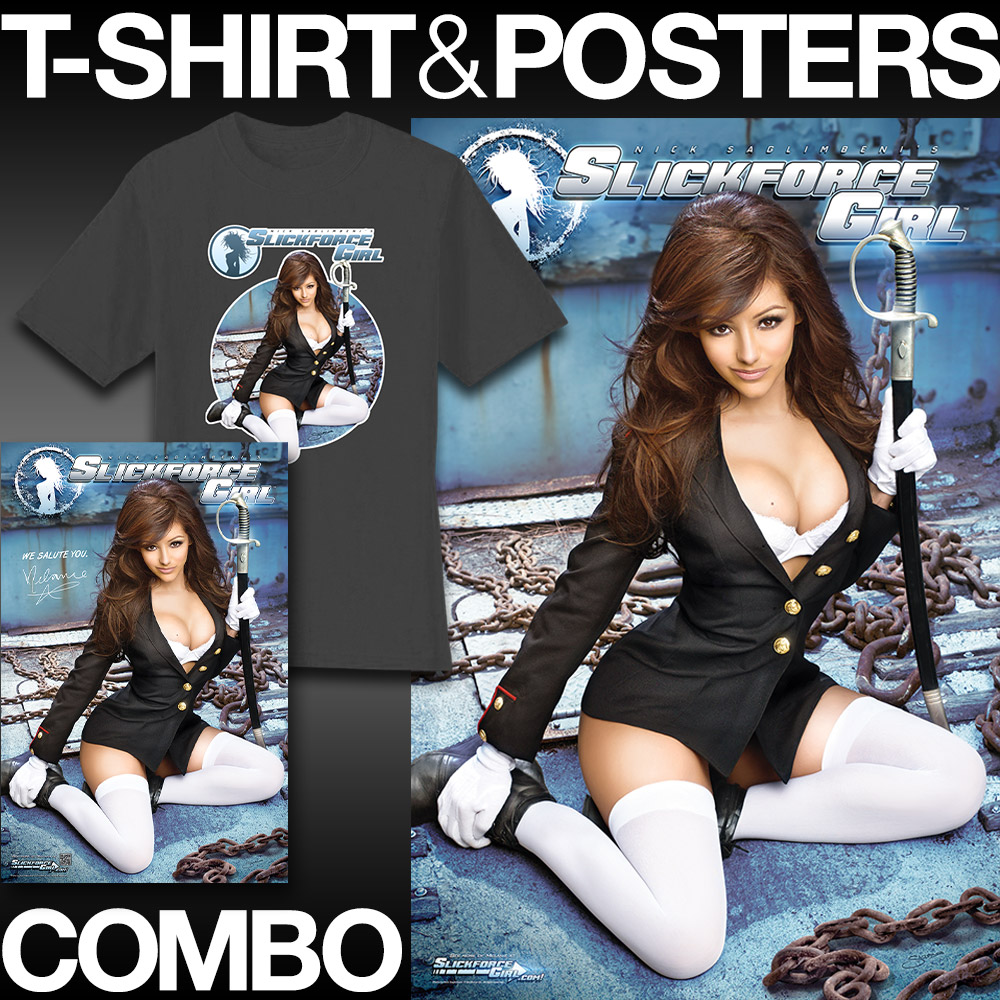 Part II: Melanie Iglesias continues her armory tour in search of the perfect battle companion for her SlickforceGirl Marine shoot.
Animated GIFs from these videos are now available on the SlickforceGirl Tumblr here.
Special thanks to Will Huang and Independent Studio Services. Visit SlickforceGirl.com for more info and stay tuned for more from Marine Melanie!
SlickforceGirl: Melanie Iglesias Suits Up for Action, Part 1 from Nick Saglimbeni on Vimeo.
While our first six heroes are out saving the world, Melanie Iglesias is getting ready for her SlickforceGirl shoot. She'll be joining the fight as Marine Melanie, but before she does, she must gear up and prepare for battle.
Special thanks to our military advisor Will Huang and Independent Studio Services for letting us play in their ultimate prop shop. Visit SlickforceGirl.com for more info and stay tuned for more from Marine Melanie!
This week, our beautiful and talented friend Melanie Iglesias debuted her 5th television series, MTV's "Off the Bat". The Slickforce team is so proud of our rapidly rising starlet, and to celebrate, we are announcing pre-orders for Part 2 of the Pure Mel collector's poster series.
Pure Mel part 1 has consistently been one of our best-sellers in the Melanie Iglesias Store, with nearly 50% of posters sales coming from Mel's growing female audience. It's a look at Ms. Iglesias in a rare new and natural light, without the glitz and glam of the studio.
Order the 2 or 4 poster Pure Mel collector's series at MelanieIglesiasStore.com and SaglimbeniStore.com!
CREDITS:
Photography by Nick Saglimbeni
Makeup by Therese Williams
Hair by Al Ingram
On the heels of the success of the Autism Speaks signing promotion, Melanie Iglesias revisits SlickforceStudio, this time to raise money for Toys for Tots. She gives her fans one week to order her life-size "Bedtime with Teddy" posters, and she personalizes each one, just in time for the holidays.
An extremely special thanks goes out to the Melanie Iglesias Store team, who handled hundreds of orders and worked tirelessly to insure Christmas delivery. To learn more, visit MelanieIglesiasStore.com.
Thank you all for your incredible support this year. None of this would be possible without you. Wishing each of you peace, love, and happiness during this holiday season and beyond. Merry Christmas, everyone!
Production Stills by JOYCE PARK
Over the summer, Melanie Iglesias came by SlickforceStudio for fun and spontaneous shoot. One of the images spawned from that shoot was Mel's Ice Cream Disaster, which went viral almost immediately after it was announced.
This video takes you behind-the-scenes at our second poster release, and this time Mel arrives life-sized, from head to toe. Melanie's interaction with the teddy bear certainly deserves an award, we're just not sure which one. Think of this as our version of Tom Hanks and Wilson in CastAway.
Order your "Bedtime with Teddy" 24×69 door/wall poster at MelanieIglesiasStore.com and SaglimbeniStore.com. Orders for AUTOGRAPHED posters placed by this Thursday, December 12 at midnight, will receive FREE personalization while Melanie is in town visiting her store. Post pictures of you with the poster and tag #LifesizeMel.
Enjoy!
CREDITS:
Photography by Nick Saglimbeni
Makeup by Therese Williams
Hair by Al Ingram
Styling by Tara Williams