It's been a bit crazy this week in the studio, with the Slickforce team fielding shipping palettes from multiple factories overseas. We'll do a proper post in the next week or so, but in the meantime, here is a quick look at the beautiful Mastering Lighting: Volume One Box Set packaging. While supplies last, you get the Slickforce Softlight reference toy free with your order, which you can see hiding on the left side of the photo above. All Slickforce products ship anywhere in the world—special launch pricing for a limited time, order here.
With the upcoming release of her new film, "Dirty Politics," we are reminded of the time we dragged Bollywood's Mallika Sherawat out to the desert for the second issue of WMB 3D: World's Most Beautiful. If you missed it the first time, here's a flashback with never-before-released behind-the-scenes images (and video below) of our scorching starlet in 100+ degree heat.
WMB 3D: Mallika Sherawat scorches the desert from Nick Saglimbeni on Vimeo.
SlickforceStore as a glorious new super-sized 24″x36″ wall poster. Or, if you're worried about the other walls in your room being jealous, you can order the new PureMel 5-poster pack and spread the love around.
As with the rest of the PureMel series, Curtains & Lace is a limited edition print run, so get yours before they're gone. Ships December 10, just in time for Christmas. Learn more here!
As an art-house, the SlickforceStudio team takes a lot of pride in just about everything we produce. But every few years, a project comes along that requires unprecedented levels of attention—an all-consuming energy beast that galvanizes the team and challenges us to power-up our skills and work together to break new ground.
Ever since the release of Mastering Retouching, my inboxes have been filled with requests for a lighting tutorial. Producing five PhotoKamp workshops provided me an incredible opportunity to work side-by-side with up-and-coming photographers and learn which teaching methods stick. Aspiring artists want to know how to create the worlds that have existed only in their minds…until now.
I'm proud to announce Mastering Lighting: Volume One, available for early pre-order now and shipping in early January. Taught in classic SlickforceSystem style, we've combined hundreds of your questions into a revolutionary new teaching tool.
In Volume One, I'll take you through some of my biggest shoots, completely reverse-engineering the lighting setups. I cover our most highly-requested topics, such as redirecting the sun, working with fog, balancing artificial and natural light, finding the right composition, motivating your light sources, and much more. Best of all, you'll get to set up the shot and light right alongside me, thanks to the incredible first-person perspective experience created by our visual effects team.
And since more than half of our customers preferred the library-quality Collector's Box Set for Mastering Retouching and Mastering Compositing (artists like awesome tangibles, go figure!)… well, we're just going to have to top ourselves on this one. The first 250 customers that order Mastering Lighting: Volume One will received a FREE Softbox reference light toy. I'll elaborate more as we get closer to launch, but trust me, you'll want this one on your shelf.
I am indebted to the wonderful Slickforce team who worked so hard to make this series a reality, and a very special thanks goes out to YOU for all of the questions, feedback and support you've sent us over the years. You've helped us create a fantastic new way to learn about lighting and photography. And I can't lie… this one was just a little too fun to make. If you don't believe me, check out the official trailer above.
Special early pricing ends November 30, so pre-order now at MasteringLighting.com!
Melanie Iglesias is back, and this time we are raising money for Hope for the Warriors. Watch as Melanie tries to keep up with the outlandish signing requests for her SlickforceGirl "Marine Mel" posters while fighting for a good cause!
Hope for the Warriors is an amazing 4-star rated charity that aims to enhance the quality of life for post-9/11 service members, their families, and families of the fallen. We are proud to have made a donation from the Saglimbeni Store and the Melanie Iglesias Store.
Special thanks to all of YOU who ordered autographed posters and made our donation possible. We couldn't do it without you!
Want to see the making of Mel's stunning Marine Cadet poster? Click here.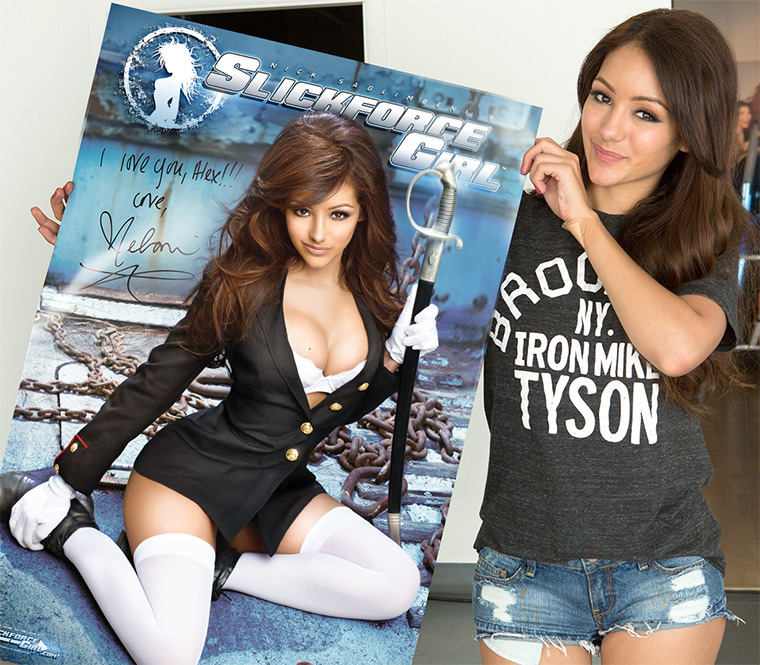 It's not everyday you get to be somebody's wish. A few months ago, Make-A-Wish called our office. They received a letter from a girl with an inspiring story—Danielle Dietrick was fighting bone cancer, and her dream was to shoot with me at SlickforceStudio. How could anyone say no to this?
Last week, Make-A-Wish flew Danielle to Los Angeles to grant her dream shoot. Danielle is as beautiful on the inside as she is out, and she is a natural on-camera. Her unlimited energy kept our crew smiling the entire day.
I couldn't have done this without our incredible team, many of whom donated their time and services. Stunning glam was provided by makeup artist Therese Williams and hair stylist Daniel Blaylock, and our wardrobe stylist Tara Wiliams brought racks of amazing clothes. Together, the team transformed Danielle and brought out her inner star. We captured so many different looks throughout the day, each one both beautiful and fun. Special thanks to Bec & Bridge who gifted Danielle her favorite dress at the end of the shoot.
We deeply admire Danielle for her strength and positivity, and we are inspired by her courage. It is our honor to welcome her to the SlickforceStudio family. Thank to you to the wonderful volunteers at Make-A-Wish America for the great work they do, and for making so many wishes come true!