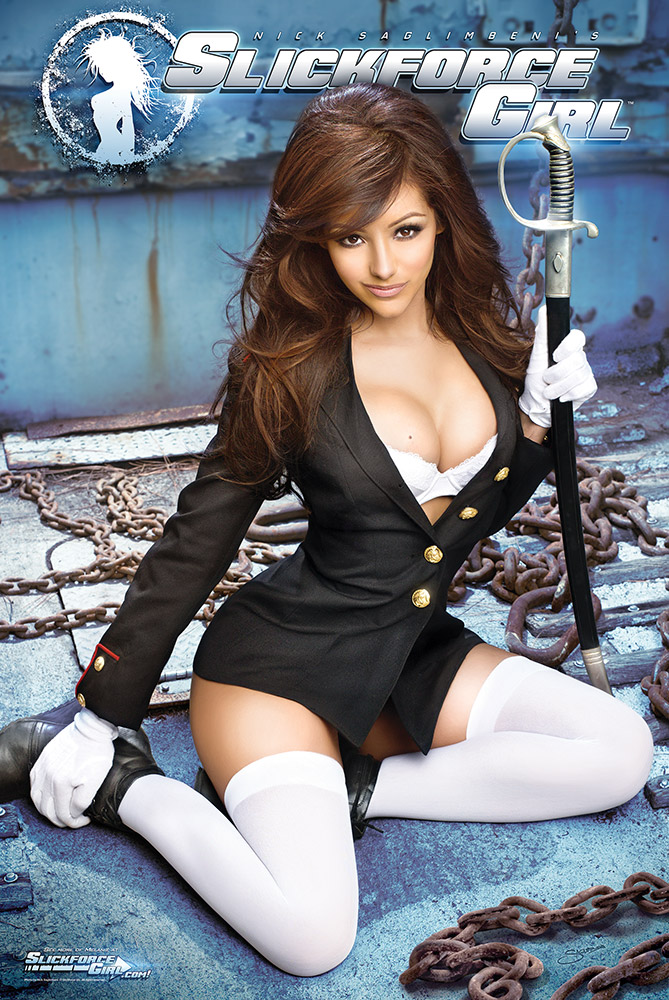 As America gears up to celebrate Memorial Day, the SlickforceGirl team is commemorating the holiday with Special Edition content releases featuring our newest hero, Marine Melanie, played by the lovely Melanie Iglesias.
Pre-order your 24″x36″ Marine Melanie Collector's Wall Poster before May 29, and Melanie Iglesias will autograph them—personalized to the recipient.
For the hardcore Marine Melanie fans, we've got a Marine Melanie SuperFan Combo Pack that contains the 24×36 wall poster, a Charcoal Gray Marine Melanie SlickforceGirl T-Shirt, a Limited Edition 11×17 care-package poster, all in one set.
A portion of profits will be donated to Hope for the Warriors, and incredible non-profit that aims to enhance the quality of life for post-9/11 service members and families of the fallen.
Wishing everyone a happy and safe holiday. In the coming week, we take the time to remember those who have lost their lives in the fight for freedom. You are the real heroes, and SlickforceGirl salutes you!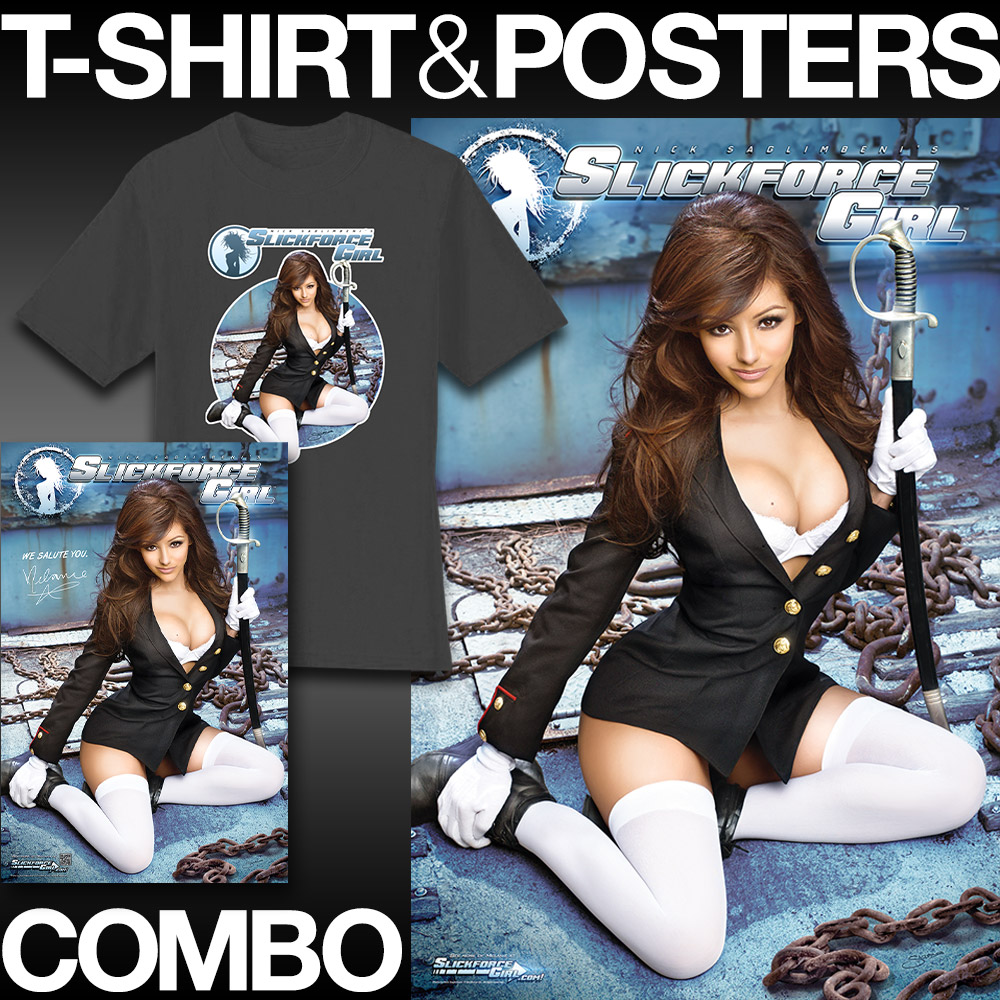 Part II: Melanie Iglesias continues her armory tour in search of the perfect battle companion for her SlickforceGirl Marine shoot.
Animated GIFs from these videos are now available on the SlickforceGirl Tumblr here.
Special thanks to Will Huang and Independent Studio Services. Visit SlickforceGirl.com for more info and stay tuned for more from Marine Melanie!
SlickforceGirl: Melanie Iglesias Suits Up for Action, Part 1 from Nick Saglimbeni on Vimeo.
While our first six heroes are out saving the world, Melanie Iglesias is getting ready for her SlickforceGirl shoot. She'll be joining the fight as Marine Melanie, but before she does, she must gear up and prepare for battle.
Special thanks to our military advisor Will Huang and Independent Studio Services for letting us play in their ultimate prop shop. Visit SlickforceGirl.com for more info and stay tuned for more from Marine Melanie!
Pisa, Italy is one of those places that just feels familiar whether you've been there or not. Iconic images of its' leaning tower burned in our minds since childhood, it is truly a wonder to experience live and up close.
I recently had the pleasure of visiting Pisa and marveled at the dramatic nature of its architecture (leaning aside). The Piazza del Miracoli (Square of Miracles) is a walled city containing several spectacular examples of Medieval European architecture—all built between 1064 and 1319—including the Duomo (Cathedral), the Baptistery and the Leaning Tower.
Climbing the tower is an adventure unto itself. A narrow stone spiral staircase ascends roughly eight stories to the top, and the tight passage is barely wide enough for one person—certainly not for the claustrophobic. Atop the tower is an incredible view of the Square and the surrounding city.
Storm clouds must have sensed me coming and positioned themselves gloomily above the landscape just as I started shooting. Special thanks to the weather for lending the mood. Enjoy!
Photography by Nick Saglimbeni. © Slickforce Inc. All rights reserved.
This week, our beautiful and talented friend Melanie Iglesias debuted her 5th television series, MTV's "Off the Bat". The Slickforce team is so proud of our rapidly rising starlet, and to celebrate, we are announcing pre-orders for Part 2 of the Pure Mel collector's poster series.
Pure Mel part 1 has consistently been one of our best-sellers in the Melanie Iglesias Store, with nearly 50% of posters sales coming from Mel's growing female audience. It's a look at Ms. Iglesias in a rare new and natural light, without the glitz and glam of the studio.
Order the 2 or 4 poster Pure Mel collector's series at MelanieIglesiasStore.com and SaglimbeniStore.com!
CREDITS:
Photography by Nick Saglimbeni
Makeup by Therese Williams
Hair by Al Ingram
Confucius famously said, "Choose a job you love, and you will never have to work a day in your life." What he failed to mention, however, was how critical the people you work with are to how much you love your job. (Nice one, Confucius.) As SlickforceStudio celebrates its 10th anniversary this year, it also marks the anniversaries of two of its' leading ladies.
Last week, photographer and retouching wizard Joyce Park celebrated her 7th year at Slickforce. I remember the day I interviewed her, I said, "We shoot a lot of women, most of them aren't wearing many clothes. Are you okay with that?" She giggled and nodded. The next day, SlickforceStudio made its' smartest hire in company history. She now splits her time between Post-Production Supervisor and Associate Photographer.
In May, celebrity photographer Christian Arias begins her 6th year with us. Christian began at Slickforce as an intern, straight from Brooks Institute of Photography. She quickly moved into a paid photo assistant role, and then lead assistant. Few people have worked so closely with our lighting, so it seemed a natural move to have her start shooting. When I first asked her to shoot for our studio, Christian shyly said no. As of this post, she now has more than 25 magazine and book covers under her belt, and a bundle of celebrity clients to boot.
Between them, they've photographed and retouched tens of thousands of images for Hollywood's top elite. I've been fortunate enough to work closely with both of them over the years, and I cannot imagine our company without them. Perhaps even more impressive than their incredible work ethics are their respective characters. They are both wonderful human beings, and it is truly an honor to work in the presence of such talented artists.
Take a look at their impressive portfolios here (Christian Arias, Joyce Park). My thanks to both ladies for choosing a home at Slickforce. You are lucky indeed, if you like the people you work with. Measuring by these two superstars, I would consider myself one of the luckiest people on earth.
PHOTO: Christian and Joyce pose with Kevin Hart at their shoot for WMB 3D. Photo by Derek Eskridge for SlickforceStudio.