Archive for the 'Glam Shoots' Category
Welcome the newest hero in the SlickforceGirl universe, Desert Mechanic Jessica. Word on the street is that she can fix anything, including your incorrect opinion.
Model Jessica Burciaga graciously stepped in to bring this rough-around-the-edges savant to life, and she was nice enough to let us cover her in dirt. Check out the making of Jessica's shoot in the video above, as well the final campaign images and a BTS gallery from the shoot below.
For additional photos, hop over to SlickforceGirl.com and be sure to check out the SlickforceGirl Facebook and Instagram.
CREDITS:
Photo: Nick Saglimbeni
Model: Jessica Burciaga
Makeup: Therese Williams
Hair: Al Ingram
Styling: Diana Chan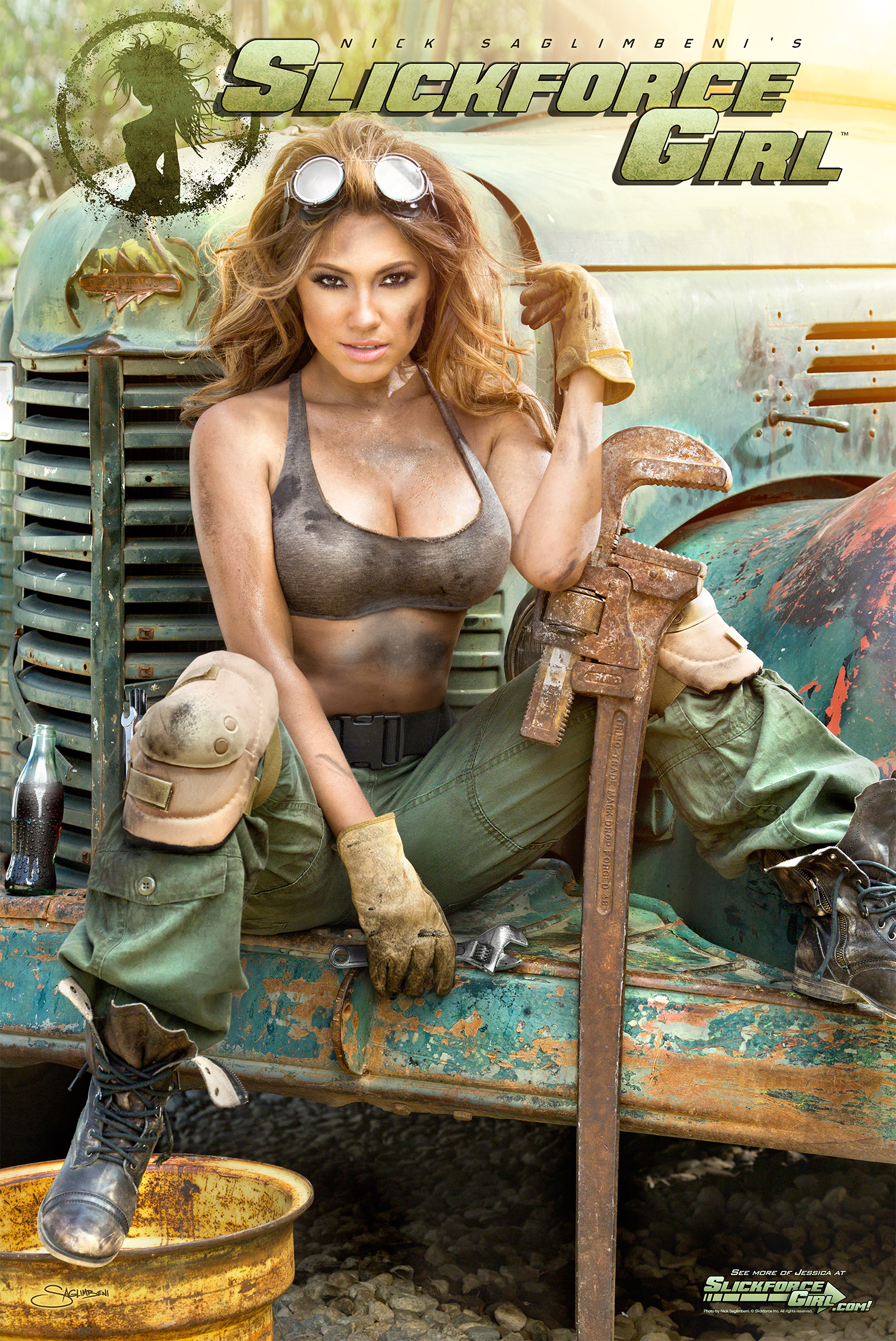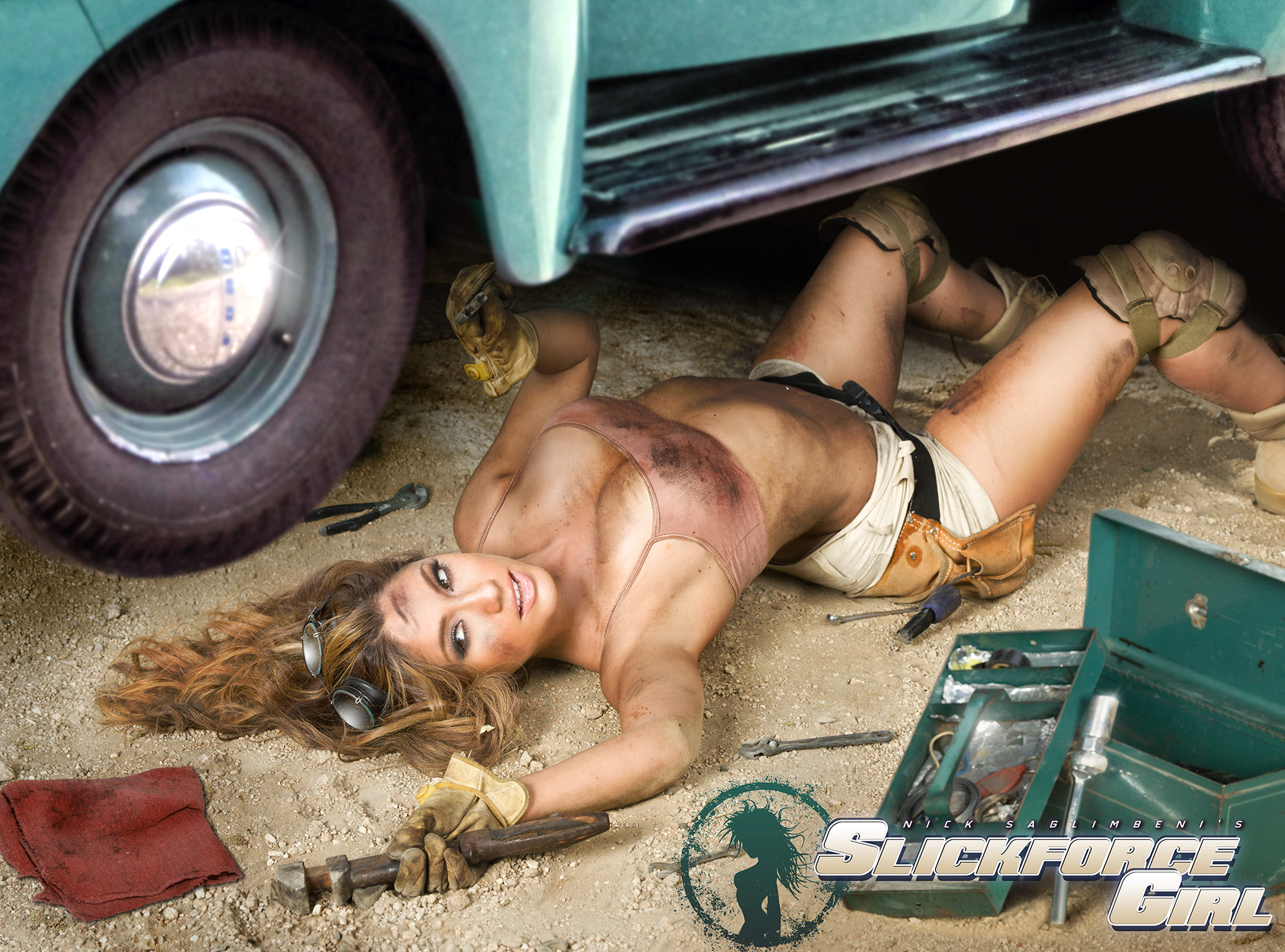 With the release of Mastering Lighting, I've been getting lots of messages asking for similar lighting breakdowns of specific images we've featured at NickSaglimbeni.com. One of the most requested is this shoot above, which has generated a ton of traffic over the years—it's currently in the Top 5 most viewed posts of all-time on my blog.
NBA star Chris Andersen and blonde beauties Queen Esther Hanuka and DJ Megan Daniels certainly make this shoot an eye-catcher, but the majority of questions and comments revolve around lighting set-up and how to achieve this look. So, I've diagramed it out in detail for you below in what I call… Lighting Setup 2.0. (I mean, seriously, look at all that color.)
I was commissioned by Rebel Ink to photograph this cover concept and 10-page editorial for the magazine. If you haven't guessed it already, the inspiration was Nirvana's Smells Like Teen Spirit video. Without all the usual bells and whistles, SlickforceStudio's industrial layout worked great as a raw space, so we showcased the exposed concrete floors and threw up a textured muslin and a backboard behind our models.
Knowing I had three blondes dressed in black guaranteed a stark color palette for the shoot, and I knew backlights would work brilliantly on their hair, so I pegged them from both sides, hiding the light stands behind the barrels. I keyed from camera right with a medium chimera and wrapped around the fill with a 74″ Octabank. I shot this on a Hasselblad 503CW at F4 on a 180mm lens to compress the space and make all elements powerful in the tight frame. And finally, we wet down the concrete for reflections, and I added a third backlight on the floor shooting straight at camera—but hidden behind the models—to add super-highlights and create maximum contrast.
Now, let me ask you: if a 7-foot tall athlete and a pair of gorgeous inked blonde superstarlets walked into your garage, how would you shoot it?
If you liked this and want to see more detailed lighting breakdowns, check out Mastering Lighting: Volume One here.
With the upcoming release of her new film, "Dirty Politics," we are reminded of the time we dragged Bollywood's Mallika Sherawat out to the desert for the second issue of WMB 3D: World's Most Beautiful. If you missed it the first time, here's a flashback with never-before-released behind-the-scenes images (and video below) of our scorching starlet in 100+ degree heat.
WMB 3D: Mallika Sherawat scorches the desert from Nick Saglimbeni on Vimeo.
SlickforceStore as a glorious new super-sized 24″x36″ wall poster. Or, if you're worried about the other walls in your room being jealous, you can order the new PureMel 5-poster pack and spread the love around.
As with the rest of the PureMel series, Curtains & Lace is a limited edition print run, so get yours before they're gone. Ships December 10, just in time for Christmas. Learn more here!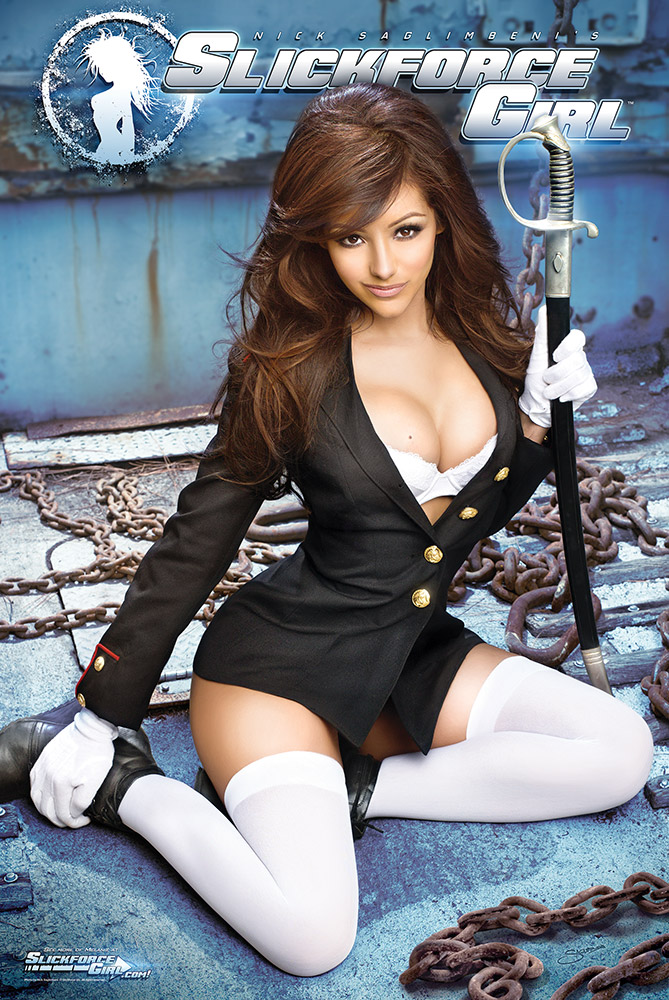 As America gears up to celebrate Memorial Day, the SlickforceGirl team is commemorating the holiday with Special Edition content releases featuring our newest hero, Marine Melanie, played by the lovely Melanie Iglesias.
Pre-order your 24″x36″ Marine Melanie Collector's Wall Poster before May 29, and Melanie Iglesias will autograph them—personalized to the recipient.
For the hardcore Marine Melanie fans, we've got a Marine Melanie SuperFan Combo Pack that contains the 24×36 wall poster, a Charcoal Gray Marine Melanie SlickforceGirl T-Shirt, a Limited Edition 11×17 care-package poster, all in one set.
A portion of profits will be donated to Hope for the Warriors, and incredible non-profit that aims to enhance the quality of life for post-9/11 service members and families of the fallen.
Wishing everyone a happy and safe holiday. In the coming week, we take the time to remember those who have lost their lives in the fight for freedom. You are the real heroes, and SlickforceGirl salutes you!