Archive for the 'Glam Shoots' Category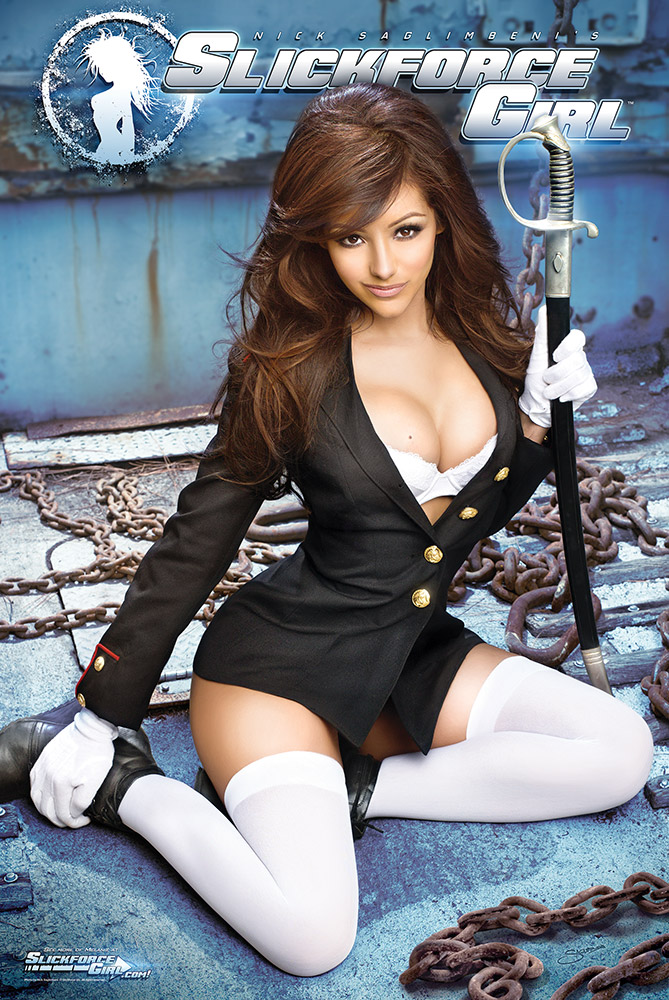 As America gears up to celebrate Memorial Day, the SlickforceGirl team is commemorating the holiday with Special Edition content releases featuring our newest hero, Marine Melanie, played by the lovely Melanie Iglesias.
Pre-order your 24″x36″ Marine Melanie Collector's Wall Poster before May 29, and Melanie Iglesias will autograph them—personalized to the recipient.
For the hardcore Marine Melanie fans, we've got a Marine Melanie SuperFan Combo Pack that contains the 24×36 wall poster, a Charcoal Gray Marine Melanie SlickforceGirl T-Shirt, a Limited Edition 11×17 care-package poster, all in one set.
A portion of profits will be donated to Hope for the Warriors, and incredible non-profit that aims to enhance the quality of life for post-9/11 service members and families of the fallen.
Wishing everyone a happy and safe holiday. In the coming week, we take the time to remember those who have lost their lives in the fight for freedom. You are the real heroes, and SlickforceGirl salutes you!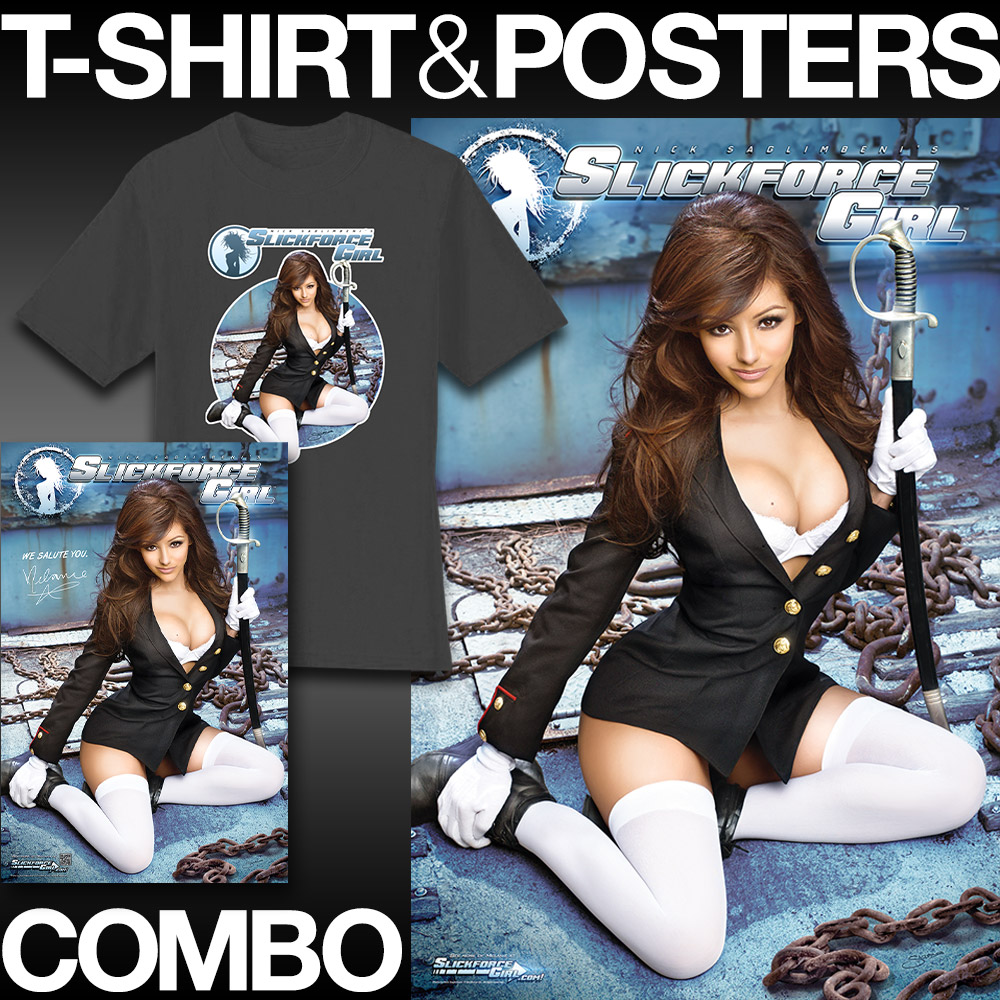 This week, our beautiful and talented friend Melanie Iglesias debuted her 5th television series, MTV's "Off the Bat". The Slickforce team is so proud of our rapidly rising starlet, and to celebrate, we are announcing pre-orders for Part 2 of the Pure Mel collector's poster series.
Pure Mel part 1 has consistently been one of our best-sellers in the Melanie Iglesias Store, with nearly 50% of posters sales coming from Mel's growing female audience. It's a look at Ms. Iglesias in a rare new and natural light, without the glitz and glam of the studio.
Order the 2 or 4 poster Pure Mel collector's series at MelanieIglesiasStore.com and SaglimbeniStore.com!
CREDITS:
Photography by Nick Saglimbeni
Makeup by Therese Williams
Hair by Al Ingram
The team just keeps getting stronger! In this video, travel to a remote location for a behind-the-scenes look at our SlickforceGirl shoot with the stunning Ayanna Jordan. She embraces the Indian Princess role wholeheartedly, and keeps the crew laughing along the way. My thanks to the lovely Ms. Jordan for her devotion to the SlickforceGirl campaign. Order your Limited Edition Princess Ayanna posters here. A portion of proceeds from poster sales are donated to the Breast Cancer Charities of America's iGoPink campaign.
Photography by NICK SAGLIMBENI
Makeup by THERESE WILLIAMS
Hair by AL INGRAM
Wardrobe Styling by DIANA CHAN
Track: "Light Speed" by Peter McIsaac Music
Over the summer, Melanie Iglesias came by SlickforceStudio for fun and spontaneous shoot. One of the images spawned from that shoot was Mel's Ice Cream Disaster, which went viral almost immediately after it was announced.
This video takes you behind-the-scenes at our second poster release, and this time Mel arrives life-sized, from head to toe. Melanie's interaction with the teddy bear certainly deserves an award, we're just not sure which one. Think of this as our version of Tom Hanks and Wilson in CastAway.
Order your "Bedtime with Teddy" 24×69 door/wall poster at MelanieIglesiasStore.com and SaglimbeniStore.com. Orders for AUTOGRAPHED posters placed by this Thursday, December 12 at midnight, will receive FREE personalization while Melanie is in town visiting her store. Post pictures of you with the poster and tag #LifesizeMel.
Enjoy!
CREDITS:
Photography by Nick Saglimbeni
Makeup by Therese Williams
Hair by Al Ingram
Styling by Tara Williams
I've always felt that art should be displayed as large as possible. It's a form of exhibition that has become even more rare in our current era, where most pictures never get bigger than Instagram size, only to be replaced seconds later with something newer. Large format allows the viewer to become immersed in the fantasy.
With the recent explosion of the Melanie Iglesias Store, I had an idea to print an image of Mel at her actual height. Aside from the sheer resolution concerns, we only found a handful of printers who could print a large volume of posters at over five-and-a-half feet tall each. We ultimately went with Ferrante & Associates, who I must say did a spectacular job of printing our starlet. Last week, our first pallet of Melanie's life-size "Bedtime with Teddy" posters arrived via truck and forklift. And they are truly a sight that one must appreciate up close.
You asked for it—you got it. True 100% scale life-size Melanie Iglesias, right in your room. Order your "Bedtime with Teddy" 24×69 door/wall poster at MelanieIglesiasStore.com and SaglimbeniStore.com. Post pictures of Mel in your room and tag #LifesizeMel for a chance to win a personalized poster!
CREDITS:
Photography by Nick Saglimbeni
Makeup by Therese Williams
Hair by Al Ingram
Styling by Tara Williams
Production Stills by Joyce Park for SlickforceStudio
Print process photos by Audrey Ferrante