I'm excited to release this 8-minute video documenting the making of Mastering Lighting. It showcases the incredible amount of teamwork that went into creating a learning experience that didn't suffer from the usual tutorial boredom. It's also a fun look at the challenges we faced trying to squeeze PhotoKamp into an easily-distributable format, including scanning a model in 3D, taking you to my favorite locations virtually, and putting the viewer inside my head for a first-person POV on set.
We hired more than a dozen visual effects artists in five countries to help us build the warehouse, the Aryn model, and a full library of lights and camera gear. Being new to VFX, I was naive at best, and I would have been in way over my head if not for the guidance and contributions of good friend and VFX supervisor Raffael Dickreuter.
Dickreuter gave us the blueprint for creating a mini-VFX house within SlickforceStudio, and together we spent endless hours building render farms and network servers, programming camera moves, and adjusting lighting and texturing from the various artists. It's safe to say that without Raff I'd still be working on this today.
If you haven't checked out Mastering Lighting yet, you can learn all about it right here. SlickforceSystem.com is offering a Fall promotion for $30 and free U.S. Shipping, enter code MLFALL30 at checkout. Also, for a limited time you can order additional SlickforceSoftlight's with your order.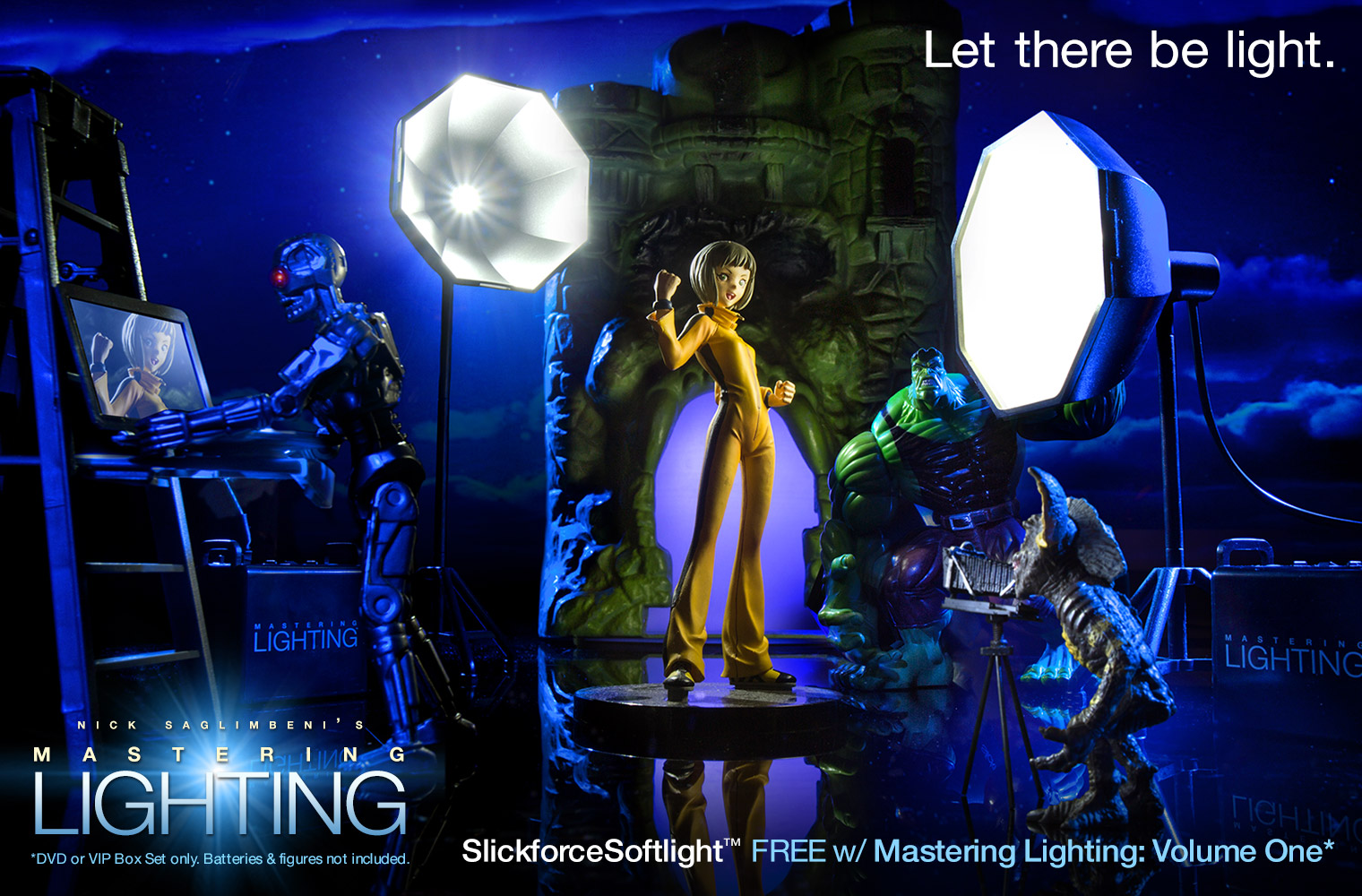 Few people can claim to have accomplished so much before turning 18. Already a fashionista, a TV star, a Balmain model and the #1 most popular person on Snapchat, Kylie Jenner clearly has plenty of momentum heading into adulthood.
The SlickforceStudio team is proud to have played a small part in Kylie's meteoric rise, as she did her very first professional shoot right here at our studio five years ago. Since then, the younger half of Jenneration K has returned in front of our cameras many times to further grow her brand.
Last month, we asked you to rank our best Kylie Jenner shoots. You voted, and now here are the Top 5. To see the full list (voting remains open), click here.
Click on the titles for more info, full galleries, and behind-the-scenes of the shoots. And if you're still itching for more Kylie after that, you can view every shoot we've ever done together right here.
Wishing Ms. Jenner a very happy 18th birthday and continued success. Drumroll please.
5. Kendall & Kylie's First Team Up at SlickforceStudio
This shoot was not only the first time I photographed both Kendall and Kylie together (aside from the Christmas cards), but it was also shot entirely in 3D. See the final images and the making of this shoot here.
4. Kylie Jenner: Day One – Kylie's First Shoot
The historic first time Kylie Jenner stepped in front of my lens, and she couldn't have shined brighter. See more from Kylie's first shoot here.
3. Arthur George Socks for Neiman Marcus
The shoot was a ridiculous amount of fun, as you can see both in the video above and also in the behind the scenes and final campaign images here.
2. OK! Magazine Spring Fashion Feature
Beautiful, bright, and full of energy—see Kendall & Kylie's full OK! shoot and behind-the-scenes here.
1. WMB 3D: Kendall & Kylie at Ultimate Graveyard
Easily the most epic shoot we've done together, K & K take over the desert for WMB 3D: World's Most Beautiful. Go backstage at their Ultimate Graveyard shoot here.
And there you have it. Love this list? Think you could improve it? Vote your favorites here so your voice is heard!
I had planned to post a larger travelogue later this summer, but amidst the recent attention surrounding the sport killing of some of our world's most cherished creatures, as well as the news that we're now down to 4 northern white rhinos in existence, I'm bumping up the wildlife gallery from our most recent company trip to Kenya.
I always say, if you can take one trip in your life, it should be to East Africa. Make it your study abroad, your honeymoon, or your retirement gift to yourself. Nowhere in the world have I met friendlier people and seen more natural beauty—or happier animals. And I don't mean happy in the way your dog pretends to be when he's manipulating you for a treat. I'm talking about wild animals—that most of us only see caged in a zoo—living in their natural habitats, loving, playing and relaxing, raised and surrounded by their families. It's one of the few things I've seen in life that I would call perfect.
My hope is that these images will serve as a reminder of how beautiful and precious wildlife on our planet is, as we are nearing a critical turning point that may result in the extinction of several species within our lifetime.
My thanks to our amazing safari guide, Ali Khan of Vumbi Jeep Safaris, who I am proud to call a friend. There is no better guide for seeing the wildlife of Kenya, and you are in for the adventure of a lifetime.
For a deeper look, see our previous Kenya travelogues here.
Photos by Nick Saglimbeni and Joyce Park
Large images above and below: Descriptions in captions
Thumb Gallery: Click to enlarge, descriptions on full-size
This is an excerpt from a recent interview I did with Rebecca Britt for Fstoppers. Read the full interview here.
Fstoppers/Rebecca Britt: I'm always fascinated when a photographer uses their talents for a greater cause than themselves. SlickforceGirl is a commercial and creative pinup brand that helps raise awareness for women's causes and breast cancer. I recently had the opportunity to review creator Nick Saglimbeni's Mastering Lighting series, and I wanted to sit with Nick to discuss his SlickforceGirl campaign and how he uses the techniques taught in Mastering Lighting within the campaign.
FS: I've been a fan of your SlickforceGirl brand for a couple of years now. Can you explain to our readers what started the idea of a SlickforceGirl?
Nick Saglimbeni: I originally created SlickforceGirl because I found myself at a crossroads in my art. My career first gained traction in the urban glamour market, an arena which boasts huge fan followings but very little recognition outside of that world. The models are gorgeous and every bit as talented as — and in some cases, more hard-working than — their "mainstream" counterparts, but because they are curvy, or ethnic, or short, they are historically limited to roles such as "music video girls".
I've always seen color, curves and shape as assets rather than hindrances, and I think I instinctively knew how to photograph these women in a way that was different from what had been done before in that world. I wanted to create a diverse universe full of strong female characters for a new generation that isn't used to every character just being tall, skinny and white.
FS: The scale of your Astronaut Vanessa character looks massive, it looks more like a movie. How did you choose your location and why?
NS: Visually speaking, Vanessa's story was the most logistically difficult to shoot, but it's also the most excited I've ever been on set. It felt like we were making a feature film, and we all turned into producers trying to find ways to get feature-film production value into a photo shoot budget. I'll never understand this new era of just compositing everything onto a stock photo background. Being on location is at least half of the fun, and it changes the energy of the shoot dramatically.
We found a huge spaceship set that was built on a sound stage for a sci-fi movie, and they hadn't broken it down yet. It was architecturally perfect, but aesthetically very gray and drab. I wanted a very stylized color palette for our pop version of deep space, similar to the bioluminescent scenes in James Cameron's Avatar.
One of the ways we achieved this was through costume and glam. We originally planned on putting model Vanessa Veasley in an actual NASA Mercury suit, but quickly discovered they were so bulky that it was impossible to shoot anything even remotely sexy. So we had her space suit custom-made, and used fabrics with a reflective sheen to capture the "monitor glow" around the spaceship.
FS: How did you approach the lighting for this concept?
NS: For the cockpit scene, we had two lighting motivators — the interior glow from the monitors and bridge controls, and the exterior glow from the stars. There's really no manual on lighting for outer space, so I looked at old American Cinematographer articles on Armageddon and Terminator 2 for inspiration.
I didn't want to deal with the spill from green-screen, so we built two 12×12 white griffolyns outside the cockpit window and fired 4 heads on two 2400w/s packs into them. Compositing is much easier in stills than in motion-picture, so you can use whatever color you want to end up with. We then created "nebula hits" by pointing a couple of strips and softboxes with pink and purple gels directly at Vanessa. The trick with making outer space ambience look believable is to let some of the scene fall completely to black, so we were very careful not to overlight the cramped space. For the interior cockpit glow, we placed small double-silked strip lights with steel blue party gels around the ship and behind camera.
This scene was shot at ISO 100 on a 50mm lens (medium format). Even though we were wide, the biggest challenge is carrying the depth of field at that speed because theoretically both Vanessa and "the stars" needed to be in focus. Ultimately, we were able to get the light barely to an F4/5.6 split, and then I set the lens to F8 and let it underexpose a stop-and-a-half, except for a few highlights on her suit. It would have taken too much power to get our ambience higher, and if there were really stars outside that window, the light that reached the ship would be perfectly believable a few stops under key. Also, blues and purples saturate better at a darker luminance than warm colors so it ended up working in our favor.
(Read the complete interview on Fstoppers here.)
— My thanks to Rebecca and the Fstoppers team for a great interview!
Welcome the newest hero in the SlickforceGirl universe, Desert Mechanic Jessica. Word on the street is that she can fix anything, including your incorrect opinion.
Model Jessica Burciaga graciously stepped in to bring this rough-around-the-edges savant to life, and she was nice enough to let us cover her in dirt. Check out the making of Jessica's shoot in the video above, as well the final campaign images and a BTS gallery from the shoot below.
For additional photos, hop over to SlickforceGirl.com and be sure to check out the SlickforceGirl Facebook and Instagram.
CREDITS:
Photo: Nick Saglimbeni
Model: Jessica Burciaga
Makeup: Therese Williams
Hair: Al Ingram
Styling: Diana Chan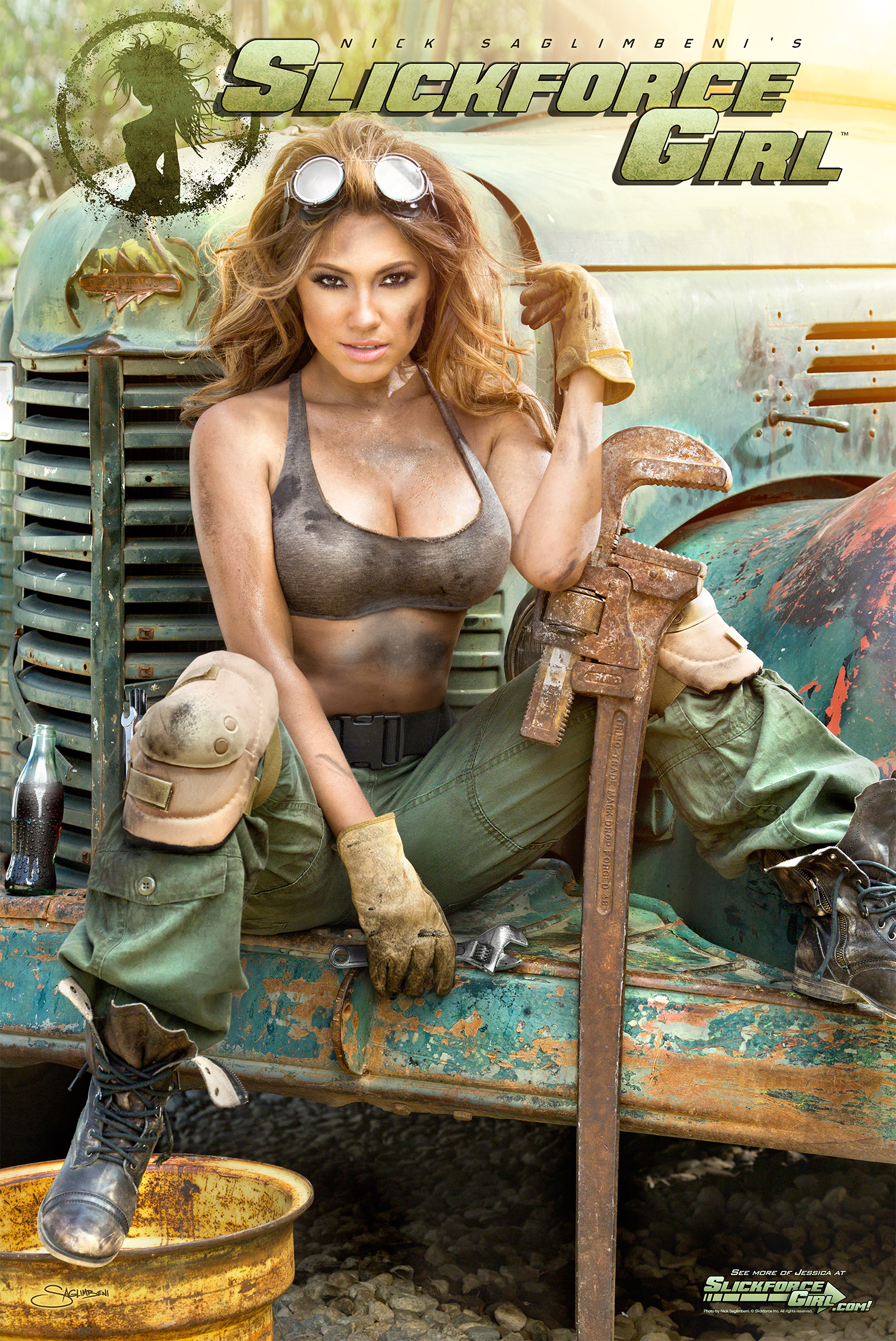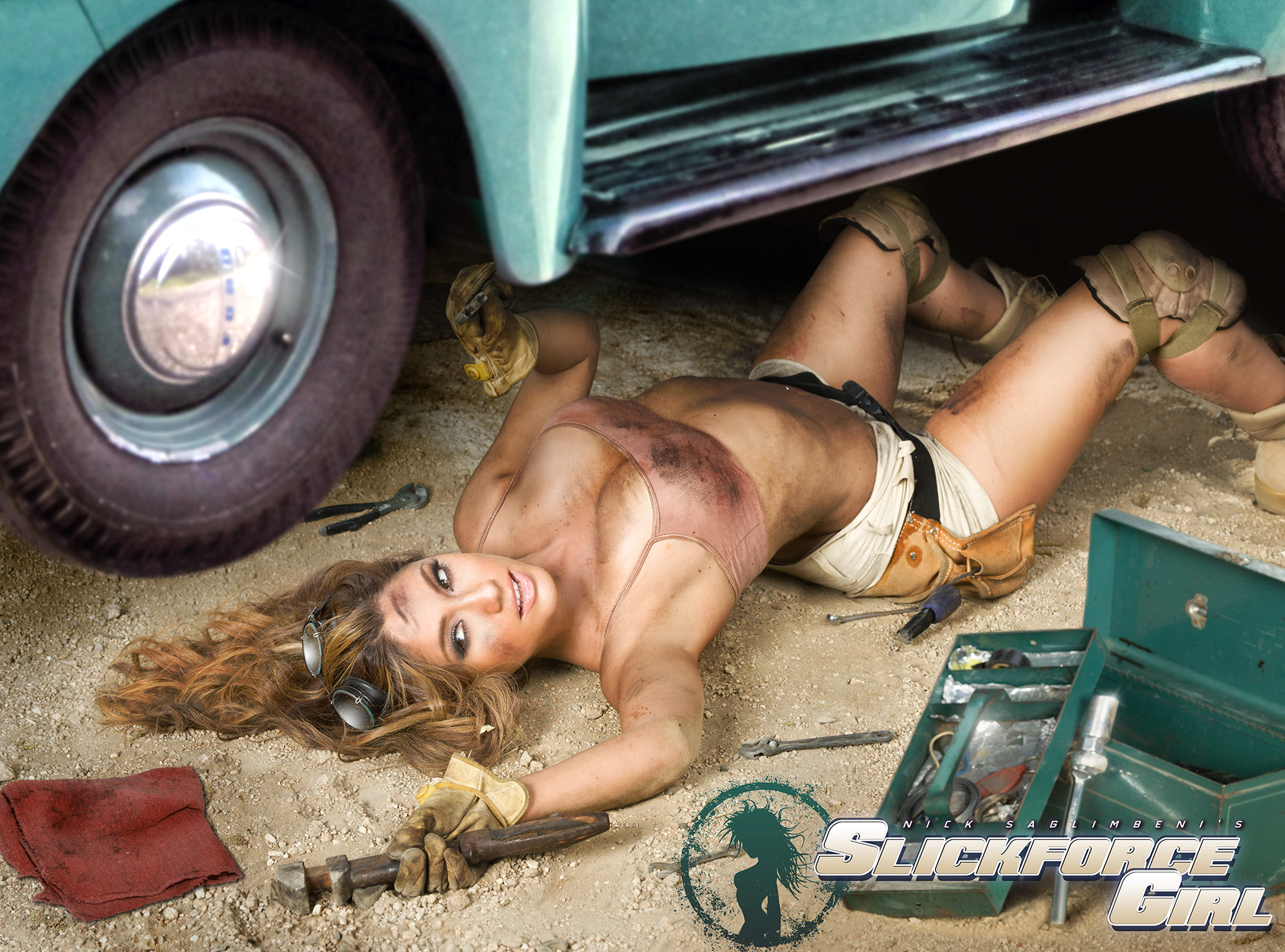 After spending two long years and countless hours in a seemingly-forgotten corner of Los Angeles putting together our latest tutorial, it has been an absolute thrill hearing from so many of you about Mastering Lighting: Volume One. For those still curious, here's a look at the first chapter of the series.
Fortunately, some pretty big critics seem to be in agreement with your positive comments, and Mastering Lighting has been getting rave reviews from these incredible photography sites. (Click images below to read the full reviews.)
I am also proud to announce the simultaneous release of two additional language versions. Mastering Lighting: Volume One has been meticulously translated into German and Spanish, by photographers Stefan Rasch and Adrian Orozco respectively. For those viewers who want the best of both worlds, the SlickforceStore is offering a combo bundle which features the German or Spanish download and the English Box Set (Standard or VIP Edition). Previews of each language are below. Click here for more information and to see all language options in our store.
And finally, by popular request, we've now introduced VIP Box Set Trilogy combos, allowing you to complete your SlickforceSystem library collection while adding the convenience of the downloads. Each trilogy set includes Mastering Lighting: Volume One, Mastering Retouching (Levels 1-7) and Mastering Compositing (Levels 1-5). Compare all options here.
Thank you for continuing to send your feedback, it is incredibly helpful in our quest to continually improve our learning series'!